On Sunday, October 5, 2014, an innovative molecular diagnostics technology from MetaStat, Inc. (MTST-OTC) was spotlighted in a WABC-TV news special.
The segment was titled "Breast Cancer: Making Big Strides" and it interviewed Dr. John S. Condeelis, Chairman of MetaStat's Scientific Advisory Board, about the ability to predict the probability of metastasis using MetaStat's MetaSite Breast test and the importance of reducing the number of over-treated patients that receive harmful and expensive chemotherapy.
Click here to view the WABC-TV special, noting that the video at the link herein is provided for informational purposes only. Neither MetaStat, Inc. nor CRA is responsible for the content of the linked videos.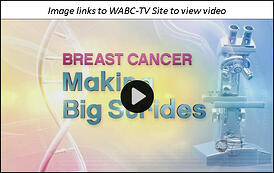 About MetaStat and MetaSite Breast
MetaStat is a life sciences company commercializing a new approach to reliably determine a patient's individual risk of developing systemic metastatic cancer, and then to help reduce this risk through active intervention of the metastatic process. The company's technology is based on a proprietary knowledge of the mechanisms that govern "metastasis" (the spread of cancer away from its primary site in the body).
The technology centers on the role of the Mena protein in tumors, and has over 15 years of study from major medical institutions including MIT, the Albert Einstein College of Medicine of Yeshiva University, Cornell University, and the IFO-Regina Elena Cancer Institute. Recent clinical studies validating MetaStat's product candidates have also been performed by the Yale University School of Medicine, the University of Toronto, and others.
MetaStat is initially advancing two diagnostic platforms targeting breast, prostate, lung, and colorectal cancers, which could enter the market as early as 2015, as well as a therapeutic program. MetaSite Breast is one of these programs.
MetaSite Breast
MetaSite Breast is a clinical laboratory assay (or test) to predict the likelihood of an early-stage breast cancer patient's tumor spreading to distant body parts. An important distinction between MetaStat's technology and whole genome-based assays such as Oncotype DX® and other approaches is that MetaStat focuses on predicting the risk of cancer metastasis based on the tumor's underlying mechanisms. Historically, cancer cells have entered the blood vessels via unknown means. The research supporting the Company's technology has sought to identify the structural and behavioral mechanisms that allow cancer cells to move and determine how this information can be used in prognosis. To MetaStat's knowledge, its technology is the only technique to focus on such mechanistic markers.
*******************************************
information, including the latest research and headlines,
on MetaStat, Inc. (MTST-OTC).
*******************************************