Crystal Research Associates is pleased to announce today that we have officially launched our mobile app and our new website. Take a look around at some of the changes...it is now easier than ever to sign up for research notifications and even start a discussion with us about your business's strategic needs. We have also recently expanded our line of products and services, which is now reflected throughout the site.
We are also kicking off 2014 with the launch of our first ever mobile app for viewing, downloading, and sharing company reports, media coverage, and news articles from any Android or Apple mobile device. The app is available for free from both the iTunes and Google Play stores and is updated as frequently as our other digital content.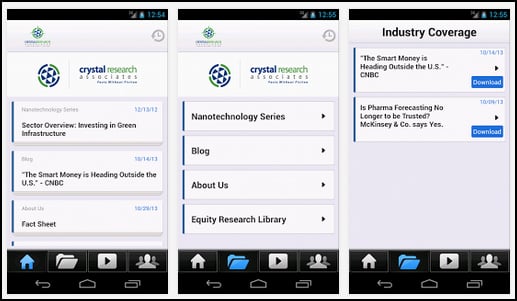 It is no secret that mobile is one of the fastest-growing digital platforms, with over 91% of Americans owning a cell phone and 35% also owning a tablet as of September 2013. Worldwide, nearly 2.5 billion mobile devices are expected to be sold in 2014. The Pew Research Center recently found that over a third of these users now go online almost exclusively from their mobile devices versus from desktop or laptop computers.
With the growth of mobile has come the growth of apps: Flurry Analytics reports that 80% of time on smartphones and tablets is spent inside an app, and the Apple iTunes store alone reportedly sold over $10 billion in apps during 2013. A recent survey of 200 institutional investors conducted by theIRapp™ found that 83% of respondents rely on mobile when it comes to work.
As a result, the way companies interact with their stakeholders and consumers is changing. People have come to expect businesses to have mobile-optimized websites and proprietary apps. This is a huge benefit for companies looking to increase their visibility, as through mobile devices, businesses can reach consumers in any location, virtually 24/7—whether they are at home, in the office, or in transit—creating new opportunities for engagement and information delivery.
If you are interested in learning more about how to pair an app for your company with your research coverage and IR services, feel free to contact us for more information. We have partnered with The IR App, LLC (theIRapp™) to offer a turn-key investor relations app built on the same platform used for our own app (pictured above) that will allow a company to optimize its corporate and IR content for iPhones, iPads, and Android mobile devices. The app is created by investor relations and IT professionals (not just web developers) with decades of IR consulting experience who understand how information needs to be disseminated, how content is being consumed, and what investors expect.