Investment Highlights for

Safe & Green Holdings Corp.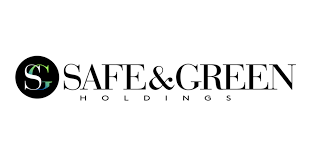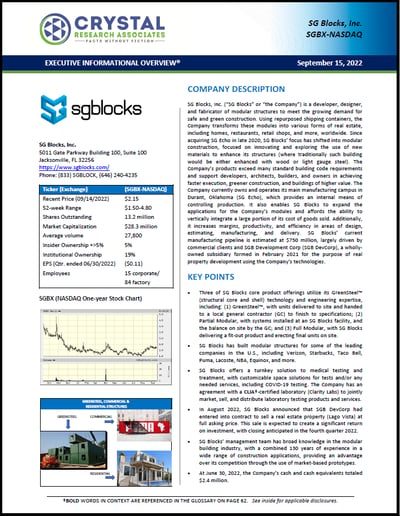 Key Investment Highlights for Safe & Green Holdings Corp. (SGBX-NASDAQ)

Safe & Green Holdings Corp.(formerly SG Blocks, Inc.) is a leading innovator in providing industry approved, code engineered cargo shipping containers for safe and green construction.

The Company's cargo modified modules, which is an alternative to using new steel and lumber, allows for the redesign and conversion of heavy-gauge steel cargo shipping containers into safe, green, building blocks that can be repurposed for use in a variety of commercial, industrial, and residential building construction. By creating a product that surpasses building code requirements, SG Blocks enables developers, architects, builders, and owners to achieve faster execution and stronger buildings for commercial and residential structures.


In September 2020, SG Blocks completed an Asset Purchase Agreement with Echo DCL, LLC, a container/modular manufacturer that had been a key supplier of the Company, to acquire substantially all the assets of ECHO.

Based in Durant, Oklahoma, SG ECHO specializes in the design and construction of permanent and temporary modular buildings. This acquisition has enabled SG Blocks the ability to expand its reach for the Company's modules and to vertically integrate a sizable portion of its cost of goods sold, as well as increase margins, productivity, and efficiency in the areas of design, estimating, manufacturing, and delivery. This acquisition also affords SG Blocks greater control over the manufacturing process and the ability to increase its product offerings.


On April 1, 2022, SG ECHO announced that it had broadened its relationship with a private client, which is producing the Company's largest contract to date. The purchase order is for more than 100 units, with SG Blocks anticipating being able to generate approximately $6 million dollars in revenue from this contract. The units are scheduled to be completed by the end of the second quarter 2022.



In 2017, SG Blocks was the first company in history to get recycled material (shipping containers) approved by the ICC Evaluation Service, LLC (ICC-ES).

This was a historic moment for construction and sustainability. This approval indicates that the ICC-ES recognizes the suitability and technical capabilities of the SG Blocks structural building materials for use in compliance with the International Building Code and Residential Code, the California Building Code and Residential Code, and the Florida Building Code—Building and Residential. This is expected to significantly expedite reviews and approvals by building departments and make the Company's container fabrication become more widely accepted within the construction industry.


Clarity Labs Solutions selected SG Blocks for its modular technology to accelerate speed of deployment and redeployment into underserved hot spots of labs certified under the Clinical Laboratory Improvement Amendments of 1988 (CLIA) that require high connectivity.

The cost of transporting diagnostic testing samples is high and to meet the high volume of underserved areas, Clarity required CLIA-certified labs that could be deployed at the point of collection. SG Blocks' deployable technology line (or D-tec) Suite is to be utilized for the modular CLIA Labs and is designed to meet the global demand for safe and easily deployable medical response situations. This D-tec line offers a uniquely efficient environment for testing collection and onsite deployable laboratory analysis.


In July 2022, SG Blocks announced that it is currently in the discovery and research phase with the Teamsters Union 848, the local Teamsters union in Long Beach, California, for a point-of-care COVID-19 testing module as well as an overarching wellness center for union members.

The Teamsters, or the International Brotherhood of Teamsters (IBT), is a labor union in both the U.S. and Canada, which represents professional workers in public and private sectors alike. The goal of the project will be to increase diagnostic and general medical and wellness services for the union members.


SG Blocks recently announced that it had entered into a fabrication agreement with Moliving Inc., the world's first luxury nomadic hospitality solution.

The fabrication agreement is valued at approximately $15 million for an initial 60 units, all of which will be sent to Moliving's Hurley House location, an eco-resort located in the Hudson Valley area. Moliving has an additional five locations, which are expected to open in 2023, which could provide SG Blocks with a potential pipeline of approximately 400 units. SG Blocks' CEO Paul Galvin has also joined Moliving's Board of Directors.


SG Blocks announced in March 2022 that it had entered into a ten-year exclusive distribution agreement with Sanitec Industries LLC, a sustainable waste management company.

The Sanitec Microwave Disinfection Unit is designed to shred and disinfect biomedical waste, rendering the waste disinfected, unrecognizable, and of no greater risk to the public health than (normally associated with) residential household waste. Sanitec's existing customers are primarily centered in healthcare facilities nationwide, ranging from large hospital systems to single practitioner doctors' offices. SG Blocks also announced that has formed a new entity, SG Environmental Solutions Corp., to meet market need for sustainable, eco-friendly waste management and recycling infrastructure products.


During February 2021, SG Blocks formed SGB Development Corp. (SGB DevCorp), a wholly owned subsidiary, which was formed for the purpose of real property development using the Company's technologies and its manufacturing facility.

SGB DevCorp develops, co-develops, designs, builds, and finances single family and multifamily homes for purchase or rent in the U.S. The launch of SGB DevCorp is expected to provide a host of benefits to SG Blocks, including: (1) keeping manufacturing near 100% capacity to provide a steady and visible flow of manufacturing income, (2) participating in project fees, and (3) potential profit from asset sales.


On August 16, 2022, the Company announced that SGB DevCorp has entered into contract for the sale of its Lago Vista, Texas property at full asking price to an unnamed buyer.

The contracted sale will generate the Company a significant return on its investment, with closing expected to occur in the fourth quarter 2022. SG Blocks expects to use the value attained from this sale to continue to grow the Company, while preventing any dilution to shareholders from future financings. The Company has stated that it does not foresee a need to access the capital markets at this time, and that the sale of Lago Vista is expected to help bolster its balance sheet.


SG Blocks' management team has broad knowledge in the modular building industry, with a combined 130 years of experience in a wide range of construction applications, providing an advantage over its competition using market-based prototypes.


As of June 30, 2022, SG Blocks' cash and cash equivalents totaled $2.4 million.
Unlocking Visibility: Trusted Research by Wall Street Veterans