An Executive Informational Overview (EIO) is now available on ImmunoPrecise Antibodies Ltd, a full-service contract research organization (CRO) for therapeutic antibody discovery and development. The 72-page report details the Company's business, its strategy, market opportunities, strategic relationships, competition, financials, risks, and more. It is available for download below.
Snapshot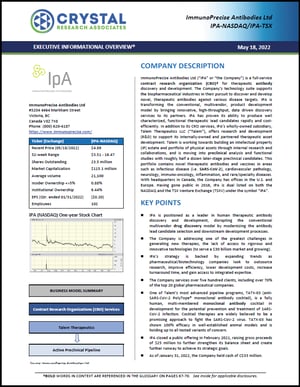 ImmunoPrecise Antibodies Ltd ("IPA" or "the Company") is a full-service contract research organization (CRO) for therapeutic antibody discovery and development. The Company's technology suite supports the biopharmaceutical industries in their pursuit to discover and develop novel, therapeutic antibodies against various disease targets.
IPA is transforming the conventional, multivendor, product development model by bringing innovative, high-throughput, data driven discovery services to its partners. IPA has proven its ability to produce well characterized, functional therapeutic lead candidates rapidly and cost-efficiently.
In addition to its CRO services, IPA's wholly-owned subsidiary, Talem Therapeutics LLC ("Talem"), offers research and development (R&D) to support its internally-owned and partnered therapeutic asset development. Talem is working towards building an intellectual property (IP) estate and portfolio of physical assets through internal research and collaborations and is moving into preclinical analysis and functional studies with roughly half a dozen later-stage preclinical candidates. This portfolio contains novel therapeutic antibodies and vaccines in areas such as infectious disease (i.e. SARS-CoV-2), cardiovascular pathology, neurology, immuno-oncology, inflammation, and rare/specialty diseases. With headquarters in Canada, the Company has offices in the U.S. and Europe. Having gone public in 2016, IPA is dual listed on both the NASDAQ and the TSX Venture Exchange (TSXV) under the symbol "IPA".
Key Points of Immunoprecise Antibodies Ltd
IPA is positioned as a leader in human therapeutic antibody discovery and development, disrupting the conventional multivendor drug discovery model by modernizing the antibody lead candidate selection and downstream development processes.


The Company is addressing one of the greatest challenges in generating new therapies, the lack of access to rigorous and innovative technologies (to serve a $30 billion market and growing).


IPA's strategy is backed by expanding trends as pharmaceutical/biotechnology companies look to outsource research, improve efficiency, lower development costs, increase turnaround time, and gain access to integrated expertise.


The Company services over five hundred clients, including over 70% of the top 20 global pharmaceutical companies.


One of Talem's most advanced pipeline programs, TATX-03 (anti-SARS-CoV-2 PolyTope® monoclonal antibody cocktail), is a fully human, multi-membered monoclonal antibody cocktail in development for the potential prevention and treatment of SARS-CoV-2 infection. Cocktail therapies are widely believed to be a promising approach to fight the SARS-CoV-2 virus. TATX-03 has shown 100% efficacy in well-established animal models and is holding up to all tested variants of concern.


IPA closed a public offering in February 2021, raising gross proceeds of $25 million to further strengthen its balance sheet and create further runway to achieve its strategic goals.


As of January 31, 2022, the Company held cash of C$33 million.
*******************************************
Visit our Corporate Profile and Investment Highlights pages
for the latest research on ImmunoPrecise Antibodies Ltd
*******************************************