An Executive Informational Overview (EIO) is now available on pharmaceutical company, Avivagen Inc. (VIV-TSX.V). The EIO is a 56-page report detailing Avivagen's business, product development, strategic relationships, market opportunities, competition, financials, risks, and more. It is available for download below.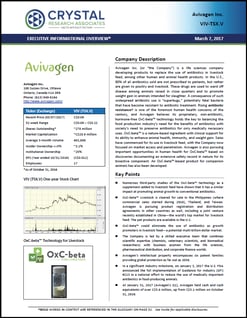 Snapshot of Avivagen
Avivagen's market viability centers on the fact that its products are capable of achieving competitive disease resistance and healthy growth without using any antibiotics or hormones. The use of antibiotics in livestock feed is a massive problem worldwide that many governments, regulators, and even industry are tackling directly. Due to how widespread antibiotic use is in today's society, many bacteria have developed a resistance to the antibiotic treatments that were designed to cure infections in patients. This is dangerous, and often fatal, to people who are sickened by these new drug-resistant "superbugs," as they can no longer be treated with conventional medicines. Without any action to curb inappropriate and unnecessary antibiotic use, by 2050, someone could die every three seconds from antimicrobial resistance, which would equate to 10 million people every year. Avivagen's efforts near term are to directly target one of the causes of antibiotic resistance—animal feed.

In the U.S., 80% of all antibiotics sold are not being prescribed to patients, but rather are given to poultry and livestock (Source: National Geographic, February 13, 2015). These drugs are used to ward off disease in animals raised in close quarters and have the added benefit of promoting weight gain among animals intended for slaughter. Despite the serious risks to human health—the Center for Disease Control and Prevention [CDC] reports two million drug-resistant infections a year—there has been a strong economic benefit for food producers to continue supplementing feed with antibiotics. That is, until recently, when companies such as Avivagen have been able to prove the existence of far safer products capable of achieving similar benefits in animals as antibiotics, but without the risks to society.

The United Nations (UN) has committed to fighting the danger that antibiotic resistance poses to modern medicine, with 193 UN member states signing a declaration to fight the drug-resistant superbugs responsible for over 700,000 human deaths a year. The most vulnerable patients to superbugs are the very young and very old, as well as any patient who may be already immunosuppressed. Beyond the UN, governments around the world have recognized this threat and are taking steps to ban or discourage the use of antibiotic growth promoters (AGPs) in livestock. Since the 1980s, Sweden and Denmark have prohibited the routine use of AGPs in livestock. More recently, the EU banned AGPs in 2006, followed by South Korea and Iran in 2011 and 2012, California (U.S.) in 2015, and Vietnam in 2016.

Avivagen is headquartered in Ottawa, Canada, and maintains two research and development (R&D) facilities in Canada: (1) chemistry operations in the National Research Council (NRC) of Canada's Industrial Partnership Facilities (Ottawa); and (2) biology operations in Charlottetown, Prince Edward Island, Canada. The Company was established in August 2005. It is publicly trading on the TSX Venture Exchange (TSX.V) under the ticker "VIV" and on the OTC Pink Market under the ticker "CHEXF." The Company currently employs 17 individuals, and has two independent directors and two consultants.
7 Key Points of Avivagen's Business
Numerous third-party studies of the OxC-beta™ technology as a supplement added to livestock feed have shown that it has a similar impact at promoting animal growth to conventional antibiotics.
OxC-beta™ Livestock is cleared for sale in the Philippines (where commercial sales started during 2016), Thailand, and Taiwan. Avivagen is pursuing product registration and distribution agreements in other countries as well, including a joint venture recently established in China—the world's top market for livestock feed. The pet products are available in the U.S.
OxC-beta™ could eliminate the use of antibiotics as growth promoters in livestock feed—a potential multi-billion-dollar market.
The Company is led by a skilled executive team that combines scientific expertise (chemists, veterinary scientists, and biomedical researchers) with business acumen from the life sciences, pharmaceutical distribution, and corporate finance worlds.
Avivagen's intellectual property encompasses six patent families providing global protection as far out as 2036.
In a significant industry milestone, on January 3, 2017 the U.S. FDA announced the full implementation of Guidance for Industry (GFI) #213 in a national effort to reduce the use of medically important antibiotics in food-producing animals.
At January 31, 2017 (Avivagen's Q1), Avivagen held cash and cash equivalents of over C$5.4 million, up from C$5.1 million on October 31, 2016.
*******************************************
Visit our Corporate Profile and Key Points pages
for the latest research on Avivagen Inc.
*******************************************