April 2022 Update on GeoVax Labs, Inc. (GOVX-NASDAQ)

Crystal Research Associates has issued a 15-page Quarterly Update on clinical-stage biotechnology company, GeoVax Labs, Inc. (GOVX-NASDAQ).
Snapshot of GeoVax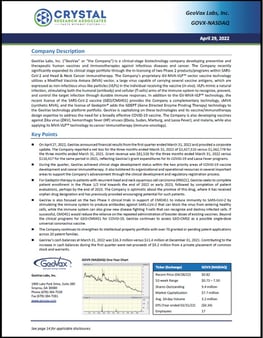 GeoVax Labs, Inc. ("GeoVax" or "the Company") is a clinical-stage biotechnology company developing preventive and therapeutic human vaccines and immunotherapies against infectious diseases and cancer. The Company recently significantly expanded its clinical stage portfolio through the in-licensing of two Phase 2 products/programs within SARS-CoV-2 and Head & Neck Cancer immunotherapy. The Company's proprietary GV-MVA-VLP™ vector vaccine technology utilizes a Modified Vaccinia Ankara (MVA) vector, a large virus capable of carrying several vaccine antigens, which are expressed as non-infectious virus-like particles (VLPs) in the individual receiving the vaccine (in vivo). VLPs mimic a natural infection, stimulating both the humoral (antibody) and cellular (T-cells) arms of the immune system to recognize, prevent, and control the target infection through durable immune responses. In addition to the GV-MVA-VLP™ technology, the recent license of the SARS-CoV-2 vaccine (GEO/CM04S1) provides the Company a complementary technology, sMVA (synthetic MVA), and the license of Gedeptin® adds the GDEPT (Gene Directed Enzyme Prodrug Therapy) technology to the GeoVax technology platform portfolio. GeoVax is capitalizing on these technologies and its vaccine/immunotherapy design expertise to address the need for a broadly effective COVID-19 vaccine. The Company is also developing vaccines against Zika virus (ZIKV), hemorrhagic fever (HF) viruses (Ebola, Sudan, Marburg, and Lassa Fever), and malaria, while also applying its MVA-VLP™ technology to cancer immunotherapy (immuno-oncology).
Key Points
On April 27, 2022, GeoVax announced financial results from the first quarter ended March 31, 2022 and provided a corporate update. The Company reported a net loss for the three months ended March 31, 2022 of $2,427,515 versus $1,562,778 for the three months ended March 31, 2021. Grant revenue was $81,526 for the three months ended March 31, 2022 versus $110,417 for the same period in 2021, reflecting GeoVax's grant expenditures for its COVID-19 and Lassa Fever programs.


During the quarter, GeoVax achieved clinical stage development status within the two priority areas of COVID-19 vaccine development and cancer immunotherapy. It also bolstered its organizational and operational resources in several important areas to support the Company's advancement through the clinical development and regulatory registration process.


For Gedeptin therapy in patients with recurrent head and neck squamous cell carcinoma (HNSCC), GeoVax seeks to complete patient enrollment in the Phase 1/2 trial towards the end of 2022 or early 2023, followed by completion of patient evaluations, perhaps by the end of 2023. The Company is optimistic about the promise of this drug, where it has received orphan drug designation and has previously provided encouraging potential for such patients.


GeoVax is also focused on the two Phase II clinical trials in support of CMO4S1 to induce immunity to SARS-CoV-2 by stimulating the immune system to produce antibodies against SARS-CoV-2 that can block the virus from entering healthy cells, while the immune system can also grow new disease fighting T-cells that can recognize and destroy infected cells. If successful, CMO4S1 would reduce the reliance on the repeated administration of booster doses of existing vaccines. Beyond the clinical programs for GEO-CM04S1 for COVID-19, GeoVax continues to assess GEO-CM02 as a possible single-dose universal coronavirus vaccine.


The Company continues to strengthen its intellectual property portfolio with over 70 granted or pending patent applications across 20 patent families.


GeoVax's cash balances at March 31, 2022 was $16.3 million versus $11.4 million at December 31, 2021. Contributing to the increase in cash balances during the first quarter were net proceeds of $9.2 million from a private placement of common stock and warrants.
*******************************************
Visit our Corporate Profile and Key Points pages
for the latest research on GeoVax Labs, Inc.
*******************************************