An Executive Informational Overview (EIO) is now available on medical technology company, Precision Therapeutics Inc. (AIPT-NASDAQ). The EIO is a 70-page report detailing Precision Therapeutics' business, product development, strategic relationships, market opportunities, competition, financials, risks, and more. It is available for download below.
Snapshot of Precision Therapeutics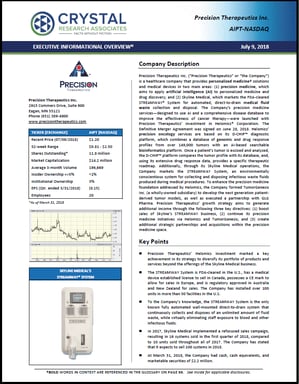 Precision Therapeutics Inc. provides personalized medicine solutions and medical devices in two main areas: (1) precision medicine, which aims to apply artificial intelligence (AI) to personalized medicine and drug discovery; and (2) Skyline Medical, which markets the FDA-cleared STREAMWAY® System for automated, direct-to-drain medical fluid waste collection and disposal.
The Company's precision medicine services—designed to use AI and a comprehensive disease database to improve the effectiveness of cancer therapy—were launched with Precision Therapeutics' investment in Helomics® Corporation. The Definitive Merger Agreement was signed on June 28, 2018. Helomics' precision oncology services are based on its D-CHIP™ diagnostic platform, which combines a database of genomic and drug response profiles from over 149,000 tumors with an AI-based searchable bioinformatics platform. Once a patient's tumor is excised and analyzed, the D-CHIP™ platform compares the tumor profile with its database, and, using its extensive drug response data, provides a specific therapeutic roadmap.
Additionally, through its Skyline Medical operations, the Company markets the STREAMWAY System, an environmentally conscientious system for collecting and disposing infectious waste fluids produced during medical procedures.
To enhance the precision medicine foundation addressed by Helomics, the Company formed TumorGenesis Inc. (a wholly-owned subsidiary) to develop the next generation patient-derived tumor models, as well as executed a partnership with GLG Pharma. Precision Therapeutics' growth strategy aims to generate additional income through the following three key directives: (1) boost sales of Skyline's STREAMWAY business, (2) continue its precision medicine initiatives via Helomics and TumorGenesis; and (3) create additional strategic partnerships and acquisitions within the precision medicine space.
Key Points of Precision Therapeutics' Business
Precision Therapeutics' Helomics investment marked a key achievement in its strategy to diversify its portfolio of products and services beyond the offerings of the Skyline Medical business.
The STREAMWAY System is FDA-cleared in the U.S., has a medical device established license to sell in Canada, possesses a CE mark to allow for sales in Europe, and is regulatory approved in Australia and New Zealand for sales. The Company has installed over 100 units in more than 50 facilities in the U.S.
To the Company's knowledge, the STREAMWAY System is the only known fully automated wall-mounted direct-to-drain system that continuously collects and disposes of an unlimited amount of fluid waste, while virtually eliminating staff exposure to blood and other infectious fluids.
In 2017, Skyline Medical implemented a refocused sales campaign, resulting in 16 systems sold in the first quarter of 2018, compared to 10 units sold throughout all of 2017. The Company has stated that it expects to sell 100 systems in 2018.
At March 31, 2018, the Company had cash, cash equivalents, and marketable securities of $2.2 million.
*******************************************
Visit our Corporate Profile and Key Points pages
for the latest research on Precision Therapeutics Inc.
*******************************************