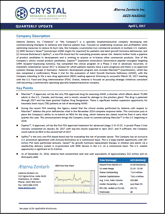 Crystal Research Associates has released an 11-page Quarterly Update on specialty biopharmaceutical company, Aeterna Zentaris Inc. (AEZS-NASDAQ; AEZ-TSX). The Update specifically details Aeterna's recent news and developments, recent and anticipated clinical trial and regulatory filing milestones, and financial position.

Company Description
Aeterna Zentaris Inc. ("Aeterna" or "the Company") is a specialty biopharmaceutical company developing and commercializing therapies to enhance and improve patient lives. Focused on establishing revenues and profitability while optimizing resources to reduce its burn rate, the Company co-promotes two commercial products in multiple U.S. markets: (1) EMD Serono's Saizen® [somatropin (rDNA origin) for injection] for pediatric and adult growth hormone deficiencies; and (2) Armune BioScience's Apifiny®, a non-PSA blood test for evaluating prostate cancer risk. Aeterna further holds a pipeline of product candidates in development and is working to acquire or in-license other commercial products. One of the Company's wholly owned product candidates, Zoptrex™ [zoptarelin doxorubicin (doxorubicin peptide conjugate targeting LHRH receptor–expressing tumors)], has completed the clinical program of a Phase 3 trial in advanced, recurrent, or metastatic endometrial cancer (EC)—a disease for which patients typically have a poor prognosis and there is no approved systemic therapy (except in Germany). Aeterna's development program also includes Macrilen™ (macimorelin), which has also completed a confirmatory Phase 3 trial for the evaluation of Adult Growth Hormone Deficiency (AGHD), with the Company intending to file a new drug application (NDA) seeking approval following its successful March 29, 2017 meeting with the U.S. Food and Drug Administration (FDA). Overall, Aeterna is focused on pursuing strategic initiatives consistent with becoming a commercially operating specialty biopharmaceutical company..
Key Points from the Update
Macrilen™, if approved, will be the only FDA approved drug for assessing AGHD, a disorder which affects about 75,000 adults in the U.S., Canada, and Europe, and is mostly caused by damage to the pituitary gland. The drug is patented through 2027 and has been granted Orphan Drug Designation. There is significant market expansion opportunity for traumatic brain injury (TBI) patients at risk of developing AGHD.

During the recent FDA meeting, the Agency stated that the clinical studies performed by Aeterna with respect to Macrilen™ address the prior deficiencies cited in the November 2014 complete response letter. This conclusion puts in place the Company's ability to re-submit an NDA for the drug, which Aeterna has stated could be filed in early third quarter this year. This announcement brings the Company closer to commercializing Macrilen™ in the U.S. beginning in 2018.

Zoptrex™, if approved, will be the first FDA approved treatment for advanced (stage III & IV) EC. A pivotal Phase 3 trial clinically completed on January 30, 2017 with top-line results expected in April 2017, and if sufficient, the Company could submit an NDA in the second half of 2017.


Apifiny® is the only non-PSA based blood test for evaluating the risk of prostate cancer. The Company has an exclusive U.S. promotion agreement with Armune BioScience on a commission basis. This is a large market opportunity with 20+ million PSA tests performed annually. Saizen® for growth hormone replacement therapy in children and adults via a needle-free delivery system is co-promoted with EMD Serono in the U.S. on a commission basis. The U.S. market opportunity is significant at $1.6 billion.

As of December 31, 2016, Aeterna held unrestricted cash and cash equivalents of approximately $22 million and no third-party debt.

*******************************************
information, including the latest research and headlines,
on Aeterna Zentaris Inc. (AEZS-NASDAQ; AEZ-TSX).


*******************************************