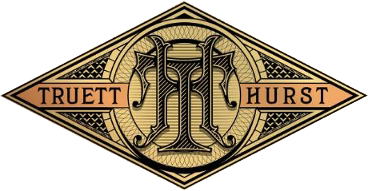 Truett-Hurst Inc. (THST-NASDAQ) announced this morning that it will release ready-to-drink wine-based beverages in cans under the brand California Winecraft through Kroger's supermarkets and multi-department stores. Kroger, one of the world's largest retailers, serves customers in 2,638 supermarkets and multi-department stores in 34 states and the District of Columbia under two dozen local banner names: Kroger, City Market, Dillons, Food 4 Less, Fred Meyer, Fry's, Harris Teeter, Jay C, King Soopers, QFC, Ralphs, and Smith's, among others. This particular line of products offers new flavor and packaging alternatives.
Headquartered in Healdsburg, California (Sonoma County wine country), Truett-Hurst's California Winecraft line of products adds to its current line of packaging innovations, which includes: California Square, PaperBoy, and Wrapped Wines. The California Winecraft line of wine-based beverages is flavored by unique recipes developed by in-house winemaker, Ms. Virginia Lambrix, with the cans bringing easy accessibility to some popular wine-based drinks, such as Sangria, Calimocho, and Wine Spritzers.
The initial release is expected to take place this spring in the Kroger family of stores in the U.S. At the same time, there will be four offerings in single-serving cans released in Canada. The initial product round will include the following products.
• Mataro's Punch: red wine and fruit juice (Sangria)
• Sonoma Brew: red wine and cola (Calimocho)
• NorCal Squeeze: sauvignon blanc, lemon and lime (White Wine Spritzer)
• Chateau Vanille: chardonnay and vanilla (a new classic Adult Cream Soda)
In keeping with the Company's business model, the line of California Winecraft wines provides ease of use via a single serving can and more eco-friendliness compared to wines in standard glass packaging. Of note is that the cans display the artwork Truett-Hurst's designer, Kevin Shaw of Stranger & Stranger.
For more details on Truett-Hurst's wines, business model, market, milestones, finances, risks, and more, our 72-page Executive Informational Overview® on the Company is available for download.
About Truett-Hurst
Truett-Hurst is a wine sales, marketing, and production company specializing in premium (below $7.00 per bottle retail price), super-premium (between $7.00-$14.00 per bottle), ultra-premium (between $14.00-$25.00 per bottle), and luxury (over $25.00 per bottle) wines. The Company is known for its quality and packaging innovations. Based in the Dry Creek and Russian River Valleys of Sonoma County, California, the Company's product line includes over 30 wine brands. Truett-Hurst's largest business segment is its retail exclusive label partnerships with major retailers, including Trader Joe's, Safeway, Total Wine & More, and now Kroger. For retail exclusive label sales, the Company combines its competitive grape sourcing and skill in wine making and production with its understanding of consumer trends and unique approach to creating wine bottles that stand out on the retail shelf. These wines are then sold exclusively by a retailer (e.g., Safeway) under a retail exclusive brand. In addition, the Company produces four of its own wine brands, which are sold through U.S. and Canadian distributors. The Company further capitalizes on several direct-to-consumer sales channels, such as tasting rooms at its California wineries, wine clubs, and online sales through The Wine Spies, LLC (an Internet wine retailer specializing in limited offerings and other online offerings as well as flash sales).
*******************************************
information, including the latest research and headlines,
on Truett-Hurst, Inc. (THST-NASDAQ).
*******************************************