Crystal Research Associates has issued an 84-page Updated Executive Informational Overview (EIO) on clinical-stage biotechnology company, GeoVax, Labs Inc. (GOVX-NASDAQ), detailing the Company's recent news and developments, anticipated clinical trial and regulatory filing milestones, and financial position. The report is available for download below.
Snapshot of GeoVax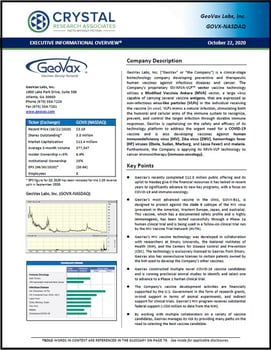 GeoVax Labs, Inc. ("GeoVax" or "the Company") is a clinical-stage biotechnology company developing preventive and therapeutic human vaccines against infectious diseases and cancer. The Company's proprietary GV-MVA-VLP™ vector vaccine technology utilizes a Modified Vaccinia Ankara (MVA) vector, a large virus capable of carrying several vaccine antigens, that are expressed as non-infectious virus-like particles (VLPs) in the individual receiving the vaccine (in vivo). VLPs mimic a natural infection, stimulating both the humoral and cellular arms of the immune system to recognize, prevent, and control the target infection through durable immune responses.
GeoVax is capitalizing on the safety and efficacy of its technology platform to address the urgent need for a COVID-19 vaccine and is also developing vaccines against human immunodeficiency virus (HIV), Zika virus (ZIKV), hemorrhagic fever (HF) viruses (Ebola, Sudan, Marburg, and Lassa Fever) and malaria. Furthermore, the Company is applying its MVA-VLP technology to cancer immunotherapy (immuno-oncology).
Key Points of GeoVax's Business
GeoVax's recently completed $12.8 million public offering and its uplist to Nasdaq give it the financial resources it has lacked in recent years to significantly advance its new key programs, with a focus on COVID-19 and immuno-oncology.

GeoVax's most advanced vaccine in the clinic, GOVX-B11, is designed to protect against the clade B subtype of the HIV virus (prevalent in the Americas, Western Europe, Japan, and Australia)

. This vaccine, which has a documented safety profile and is highly immunogenic, has been tested successfully through a Phase 2a

human

clinical trial and is being used in a follow-on clinical trial run by the HIV Vaccine Trial Network (HVTN).

GeoVax's HIV vaccine technology was developed in collaboration with researchers at Emory University, the National Institutes of Health (NIH), and the Centers for Disease Control and Prevention (CDC). The technology is exclusively licensed to GeoVax from Emory. GeoVax also has nonexclusive licenses to certain patents owned by the NIH used to develop the Company's other vaccines.

GeoVax constructed multiple novel COVID-19 vaccine candidates and is running preclinical animal studies to identify and select one to advance to a Phase 1 human clinical trial.

The Company's vaccine development activities are financially supported by the U.S. Government in the form of research grants, in-kind support in terms of animal experiments, and indirect support for clinical trials. GeoVax's HIV program receives substantial federal support (>$50 million to date from the NIH).

By working with multiple collaborators on a variety of vaccine candidates, GeoVax manages its risk by providing many paths on the road to selecting the best vaccine candidate.

.
*******************************************
Visit our Corporate Profile and Key Points pages
for the latest research on GeoVax Labs, Inc.
*******************************************