CVR Medical Corp. announced that it will have its upcoming "Carotid Stenotic Scan (CSS)" device showcased by its manufacturing and strategic partner Canon Virginia, Inc. (CVI), a wholly owned subsidiary of Canon USA, at this week's Medical Design & Manufacturing West (MD&M) in Anaheim, CA. CVR Medical's CSS is a novel device that uses patented sound wave analysis technology to detect and measure carotid arterial stenosis.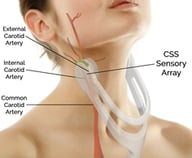 MD&M West is recognized as the main and most comprehensive yearly medical technology and manufacturing expo and conference in North America (https://mdmwest.mddionline.com). From February 5-7, 2019, over 19,000 members of the global medical care and manufacturing community will gather at MD&M West to learn about and exhibit the latest in cutting-edge advancements.
CVR has partnered with CVI for the manufacturing, supply chain management, logistics, white glove delivery to end user, telephone tech support, and on-site service for the CSS; providing key advantages when CVR scales to meet potential global demand.
With Canon as a recognized leader in imaging technology, CVR gains invaluable exposure and credibility within the industry. Canon's showcase of the CSS highlights the unique, customized manufacturing of the device, as well as logistics and product support needs. The manufacturing partnership between CVR Medical and Canon, announced in 2017, established the production means through which the CSS will be launched.
******************************************************
Learn move about CVR Medical by downloading our Executive Informational Overview (EIO), a 60-page report detailing the Company's business, product development, strategic relationships, market opportunities, competition, financials, risks, and more.
Snapshot
CVR Medical Corp. is a medical technology company developing and commercializing a revolutionary device to assess carotid arterial health. The technology is intended to quickly and cost-effectively identify patients with arterial narrowing, which puts them at risk for ischemic stroke, in order to enable early intervention. Performed in a primary care physician's office, the Company's Carotid Stenotic Scan (CSS) uses low frequency sound wave analysis to non-invasively detect and measure carotid arterial stenosis (narrowing of the blood vessels in the neck that carries blood from the heart to the brain) or occlusion (blockage)—which is the leading risk factor for stroke. The CSS, which can be performed within two minutes by a medical technician in the office, costs less than invasive diagnostics, such as duplex Doppler ultrasound (DUS), magnetic resonance angiography (MRA), computed tomography angiography (CTA), or cerebral angiogram, and provides results at the point of care. Stroke is a very serious medical condition that requires immediate emergency care as it can cause lasting brain damage, long-term disability, or death. Primary care physicians currently lack a cost-effective tool to initially assess their patients' arterial health. The CSS device is undergoing final phase trials at several world-renowned medical institutions and is positioned for imminent U.S. FDA submission, expected to be followed by market clearance and launch—targeted for 1H 2019.
Key Points of CVR Medical Corp.'s Business
Stroke is the fifth leading cause of death in the U.S., resulting in one out of 20 adult deaths, at a cost of roughly $34 billion per year. Many of these deaths could be preventable. While cardiac disease is the primary cause of death, stroke is the leading cause of long-term disability (50% of patients are permanently impaired).


The Company announced in January 2018 the start of clinical trials at the Henry Ford Hospital in Detroit. Additionally, Thomas Jefferson University Hospital in Philadelphia is expected to begin pivotal trials following promising preliminary results of its ongoing ENTICES Study, evaluating CSS against current ultrasound technologies. Furthermore, in February 2018, the Company announced Internal Review Board (IRB) approval by the Cleveland Clinic, sanctioning CVR Medical to conduct clinical trials using the CSS device.


CVR Medical has a contract with Canon U.S.A. to build and manufacture its CSS device, where Canon will manufacture, assemble, handle all logistics (including tech support), and 'white glove' deliver the CSS to the doctor's office. Canon brings significant value to the Company as it has a dedicated space with the ability to scale production as CVR Medical transitions into a full scale medical device sales and marketing company.


CVR Medical's intellectual property (IP) portfolio includes one issued patent, 13 pending, and more than 20 under process, with significant IP surrounding its CSS, including 4K encrypted proprietary software.


The Company's executive team consists of veterans from the medical device industry with business acumen from key areas in healthcare.
*******************************************
Visit our Corporate Profile and Key Points pages
for the latest research on CVR Medical Corp.
*******************************************