An Executive Informational Overview (EIO) is now available on clinical-stage biotechnology company, GeoVax, Labs Inc. (GOVX-OTC). The EIO is a 80-page report detailing GeoVax's business, product development, strategic relationships, market opportunities, competition, financials, risks, and more. It is available for download below.
Snapshot of GeoVax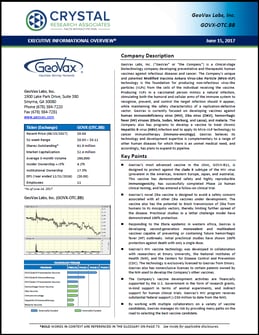 GeoVax Labs, Inc. ("GeoVax") is a clinical-stage biotechnology company focused on developing human vaccines—both preventative and therapeutic—against infectious diseases as well as cancer using a novel patented Modified Vaccinia Ankara-Virus Like Particle (MVA-VLP) vector vaccine platform. The Company's proprietary MVA platform, a large virus capable of carrying several vaccine antigens, expresses highly effective virus like particle (VLP) immunogens in the vaccinated individual, prompting durable immune responses while providing the safety features of a replication defective vector.
The Company's development efforts are focused on preventive vaccines within the following important areas: human immunodeficiency virus (HIV), Zika virus (ZIKV), hemorrhagic fever (HF) viruses (Ebola, Sudan, Marburg, and Lassa), and malaria. GeoVax is also developing therapeutic vaccines for chronic HBV infections and immuno-oncology, and is collaborating on a combination approach to developing a functional cure for HIV infection. The Company's vaccine development activities have been, and continue to be financially supported by the U.S. Government in the form of research grants awarded directly to the Company, in-kind support in terms of animal experiments, as well as indirect support for conducting human clinical trials. In particular, GeoVax's HIV program receives substantial federal support (with over $50 million received to date from the NIH). Importantly, large pharmaceutical or biotechnology companies typically do not have a significant interest in sponsoring early-stage activity in HIV until the development at least reaches an efficacy trial. All of GeoVax's preventative vaccine trials have been sponsored by the NIH, with the NIH (through the HIV Vaccine Trials Network [HVTN]), in fact, running the Company's trials—something that is unusual within the biotechnology space.
6 Key Points of GeoVax's Business
GeoVax's most advanced vaccine in the clinic, GOVX-B11, is designed to protect against the clade B subtype of the HIV virus (prevalent in the Americas, Western Europe, Japan, and Australia). This vaccine has demonstrated safety and highly reproducible immunogenicity; has successfully completed Phase 2a human clinical testing; and has entered a follow-on clinical trial.
GeoVax's novel Zika vaccine is designed to avoid a safety concern associated with all other Zika vaccines under development. The vaccine also has the potential to block transmission of Zika from humans to its mosquito vectors, thereby limiting further spread of the disease. Preclinical studies in a lethal challenge model have demonstrated 100% protection.
Responding to the Ebola epidemic in western Africa, GeoVax is developing second-generation monovalent and multivalent vaccines capable of preventing or containing future hemorrhagic fever (HF) outbreaks. Initial preclinical studies have shown 100% protection against death with only a single dose.
GeoVax's HIV vaccine technology was developed in collaboration with researchers at Emory University, the National Institutes of Health (NIH), and the Centers for Disease Control and Prevention (CDC). The technology is exclusively licensed to GeoVax from Emory. GeoVax also has nonexclusive licenses to certain patents owned by the NIH used to develop the Company's other vaccines.
The Company's vaccine development activities are financially supported by the U.S. Government in the form of research grants, in-kind support in terms of animal experiments, and indirect support for human clinical trials. GeoVax's HIV program receives substantial federal support (>$50 million to date from the NIH).
By working with multiple collaborators on a variety of vaccine candidates, GeoVax manages its risk by providing many paths on the road to selecting the best vaccine candidate.
*******************************************
Visit our Corporate Profile and Key Points pages
for the latest research on GeoVax Labs, Inc.
*******************************************