November 2018 Update Issued on GeoVax Labs (GOVX-OTC)

Crystal Research Associates has released a 17-page Quarterly Update on clinical-stage biotechnology company, GeoVax, Labs Inc. (GOVX-OTC). The report is available for download.
Snapshot of GeoVax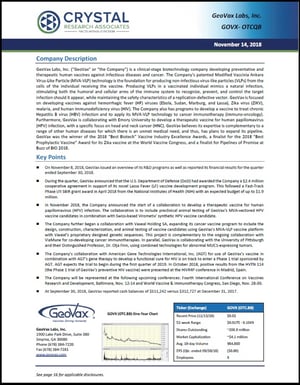 GeoVax Labs is developing preventative and therapeutic human vaccines against infectious diseases and cancer. The Company's patented Modified Vaccinia Ankara Virus-Like Particle (MVA-VLP) technology is the foundation for producing non-infectious virus-like particles (VLPs) from the cells of the individual receiving the vaccine. Producing VLPs in a vaccinated individual mimics a natural infection, stimulating both the humoral and cellular arms of the immune system to recognize, prevent, and control the target infection should it appear, while maintaining the safety characteristics of a replication-defective vector.
GeoVax is focused on developing vaccines against hemorrhagic fever (HF) viruses (Ebola, Sudan, Marburg, and Lassa), Zika virus (ZIKV), malaria, and human immunodeficiency virus (HIV). The Company also has programs to develop a vaccine to treat chronic Hepatitis B virus (HBV) infection and to apply its MVA-VLP technology to cancer immunotherapy (immuno-oncology). Furthermore, GeoVax is collaborating with Emory University to develop a therapeutic vaccine for human papillomavirus (HPV) infection, with a specific focus on head and neck cancer (HNC). GeoVax believes its expertise is complementary to a range of other human diseases for which there is an unmet medical need, and thus, has plans to expand its pipeline.
GeoVax was the winner of the 2018 "Best Biotech" Vaccine Industry Excellence Awards, a finalist for the 2018 "Best Prophylactic Vaccine" Award for its Zika vaccine at the World Vaccine Congress, and a finalist for Pipelines of Promise at Buzz of BIO 2018.
Key Points
On November 8, 2018, GeoVax issued an overview of its R&D programs as well as reported its financial results for the quarter ended September 30, 2018.
During the quarter, GeoVax announced that the U.S. Department of Defense (DoD) had awarded the Company a $2.4 million cooperative agreement in support of its novel Lassa Fever (LF) vaccine development program. This followed a Fast-Track Phase I/II SBIR grant award in April 2018 from the National Institutes of Health (NIH) with an expected budget of up to $1.9 million.
In November 2018, the Company announced the start of a collaboration to develop a therapeutic vaccine for human papillomavirus (HPV) infection. The collaboration is to include preclinical animal testing of GeoVax's MVA-vectored HPV vaccine candidates in combination with Swiss-based Virometix' synthetic HPV vaccine candidate.
The Company further began a collaboration with Vaxeal Holding SA, expanding its cancer vaccine program to include the design, construction, characterization, and animal testing of vaccine candidates using GeoVax's MVA-VLP vaccine platform with Vaxeal's proprietary designed genetic sequences. This project is complementary to the ongoing collaboration with ViaMune for co-developing cancer immunotherapies. In parallel, GeoVax is collaborating with the University of Pittsburgh and their Distinguished Professor, Dr. Olja Finn, using combined technologies for abnormal MUC1-expressing tumors.
The Company's collaboration with American Gene Technologies International, Inc. (AGT) for use of GeoVax's vaccine in combination with AGT's gene therapy to develop a functional cure for HIV is on track to enter a Phase 1 trial sponsored by AGT. AGT expects the trial to begin during the first quarter of 2019. In October 2018, positive results from the HVTN 114 (the Phase 1 trial of GeoVax's preventive HIV vaccine) were presented at the HIVR4P conference in Madrid, Spain.
The Company will be represented at the following upcoming conferences: Fourth International Conference on Vaccines Research and Development, Baltimore, Nov. 12-14 and World Vaccine & Immunotherapy Congress, San Diego, Nov. 28-30.
At September 30, 2018, GeoVax reported cash balances of $511,242 versus $312,727 at December 31, 2017.
*******************************************
Visit our Corporate Profile and Key Points pages
for the latest research on GeoVax Labs, Inc.
*******************************************