Crystal Research Associates has issued a 12-page Quarterly Update on clinical-stage biotechnology company, GeoVax, Labs Inc. (GOVX-NASDAQ).
Snapshot of GeoVax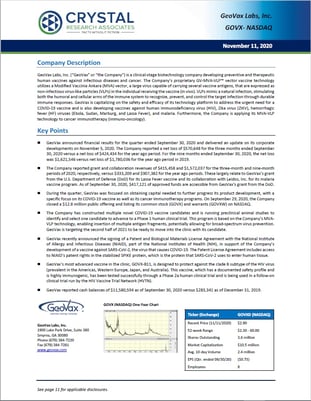 GeoVax Labs, Inc. ("GeoVax" or "the Company") is a clinical-stage biotechnology company developing preventive and therapeutic human vaccines against infectious diseases and cancer. The Company's proprietary GV-MVA-VLP™ vector vaccine technology utilizes a Modified Vaccinia Ankara (MVA) vector, a large virus capable of carrying several vaccine antigens, that are expressed as non-infectious virus-like particles (VLPs) in the individual receiving the vaccine (in vivo). VLPs mimic a natural infection, stimulating both the humoral and cellular arms of the immune system to recognize, prevent, and control the target infection through durable immune responses. GeoVax is capitalizing on the safety and efficacy of its technology platform to address the urgent need for a COVID-19 vaccine and is also developing vaccines against human immunodeficiency virus (HIV), Zika virus (ZIKV), hemorrhagic fever (HF) viruses (Ebola, Sudan, Marburg, and Lassa Fever), and malaria. Furthermore, the Company is applying its MVA-VLP technology to cancer immunotherapy (immuno-oncology).



Key Points of GeoVax's Business
GeoVax announced financial results for the quarter ended September 30, 2020 and delivered an update on its corporate developments on November 5, 2020. The Company reported a net loss of $570,648 for the three months ended September 30, 2020 versus a net loss of $424,434 for the year ago period. For the nine months ended September 30, 2020, the net loss was $1,621,546 versus net loss of $1,780,036 for the year ago period in 2019.
The Company reported grant and collaboration revenues of $415,458 and $1,572,037 for the three-month and nine-month periods of 2020, respectively, versus $333,209 and $907,382 for the year ago periods. These largely relate to GeoVax's grant from the U.S. Department of Defense (DoD) for its Lassa Fever vaccine and its collaboration with Leidos, Inc. for its malaria vaccine program. As of September 30, 2020, $417,121 of approved funds are accessible from GeoVax's grant from the DoD.
During the quarter, GeoVax was focused on obtaining capital needed to further progress its product development, with a specific focus on its COVID-19 vaccine as well as its cancer immunotherapy programs. On September 29, 2020, the Company closed a $12.8 million public offering and listing its common stock (GOVX) and warrants (GOVXW) on NASDAQ.
The Company has constructed multiple novel COVID-19 vaccine candidates and is running preclinical animal studies to identify and select one candidate to advance to a Phase 1 human clinical trial. This program is based on the Company's MVA-VLP technology, enabling insertion of multiple antigen fragments, potentially allowing for broad-spectrum virus prevention. GeoVax is targeting the second half of 2021 to be ready to move into the clinic with its candidate.





GeoVax recently announced the signing of a Patent and Biological Materials License Agreement with the National Institute of Allergy and Infectious Diseases (NIAID), part of the National Institutes of Health (NIH), in support of the Company's development of a vaccine against SARS-CoV-2, the virus that causes COVID-19. The Patent License Agreement includes access to NIAID's patent rights in the stabilized SPIKE protein, which is the protein that SARS-CoV-2 uses to enter human tissue.





GeoVax's most advanced vaccine in the clinic, GOVX-B11, is designed to protect against the clade B subtype of the HIV virus (prevalent in the Americas, Western Europe, Japan, and Australia)

. This vaccine, which has a documented safety profile and is highly immunogenic, has been tested successfully through a Phase 2a

human

clinical trial and is being used in a follow-on clinical trial run by the HIV Vaccine Trial Network (HVTN).





GeoVax reported cash balances of $11,580,594 as of September 30, 2020 versus $283,341 as of December 31, 2019.
*******************************************
Visit our Corporate Profile and Key Points pages
for the latest research on GeoVax Labs, Inc.
*******************************************