February 2021 Update on GeoVax Labs, Inc. (GOVX-NASDAQ)

Crystal Research Associates has issued an 11-page Quarterly Update on clinical-stage biotechnology company, GeoVax Labs, Inc. (GOVX-NASDAQ).
Snapshot of GeoVax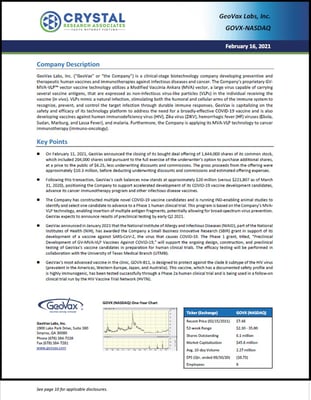 GeoVax Labs, Inc. ("GeoVax" or "the Company") is a clinical-stage biotechnology company developing preventive and therapeutic human vaccines and immunotherapies against infectious diseases and cancer. The Company's proprietary GV-MVA-VLP™ vector vaccine technology utilizes a Modified Vaccinia Ankara (MVA) vector, a large virus capable of carrying several vaccine antigens, that are expressed as non-infectious virus-like particles (VLPs) in the individual receiving the vaccine (in vivo). VLPs mimic a natural infection, stimulating both the humoral and cellular arms of the immune system to recognize, prevent, and control the target infection through durable immune responses. GeoVax is capitalizing on the safety and efficacy of its technology platform to address the need for a broadly-effective COVID-19 vaccine and is also developing vaccines against human immunodeficiency virus (HIV), Zika virus (ZIKV), hemorrhagic fever (HF) viruses (Ebola, Sudan, Marburg, and Lassa Fever), and malaria. Furthermore, the Company is applying its MVA-VLP technology to cancer immunotherapy (immuno-oncology).

Key Points of GeoVax's Business
On February 11, 2021, GeoVax announced the closing of its bought deal offering of 1,644,000 shares of its common stock, which included 204,000 shares sold pursuant to the full exercise of the underwriter's option to purchase additional shares, at a price to the public of $6.25, less underwriting discounts and commissions. The gross proceeds from the offering were approximately $10.3 million, before deducting underwriting discounts and commissions and estimated offering expenses.

Following this transaction, GeoVax's cash balances now stands at approximately $20 million (versus $221,807 as of March 31, 2020), positioning the Company to support accelerated development of its COVID-19 vaccine development candidates, advance its cancer immunotherapy program and other infectious disease vaccines.

The Company has constructed multiple novel COVID-19 vaccine candidates and is running IND-enabling animal studies to identify and select one candidate to advance to a Phase 1 human clinical trial. This program is based on the Company's MVA-VLP technology, enabling insertion of multiple antigen fragments, potentially allowing for broad-spectrum virus prevention. GeoVax expects to announce results of preclinical testing by early Q2 2021.

GeoVax announced in January 2021 that the National Institute of Allergy and Infectious Diseases (NIAID), part of the National Institutes of Health (NIH), has awarded the Company a Small Business Innovative Research (SBIR) grant in support of its development of a vaccine against SARS-CoV-2, the virus that causes COVID-19. The Phase 1 grant, titled, "Preclinical Development of GV-MVA-VLP Vaccines Against COVID-19," will support the ongoing design, construction, and preclinical testing of GeoVax's vaccine candidates in preparation for human clinical trials. The efficacy testing will be performed in collaboration with the University of Texas Medical Branch (UTMB).

GeoVax's most advanced vaccine in the clinic, GOVX-B11, is designed to protect against the clade B subtype of the HIV virus (prevalent in the Americas, Western Europe, Japan, and Australia). This vaccine, which has a documented safety profile and is highly immunogenic, has been tested successfully through a Phase 2a human clinical trial and is being used in a follow-on clinical trial run by the HIV Vaccine Trial Network (HVTN).
*******************************************
Visit our Corporate Profile and Key Points pages
for the latest research on GeoVax Labs, Inc.
*******************************************