March 2021 Update on GeoVax Labs, Inc. (GOVX-NASDAQ)

Crystal Research Associates has issued an 14-page Quarterly Update on clinical-stage biotechnology company, GeoVax Labs, Inc. (GOVX-NASDAQ).
Snapshot of GeoVax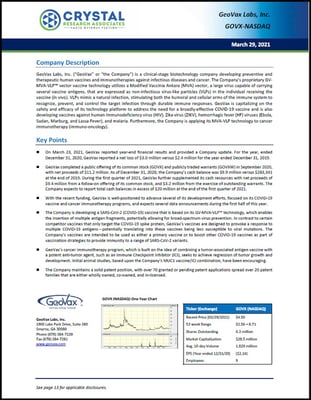 GeoVax Labs, Inc. ("GeoVax" or "the Company") is a clinical-stage biotechnology company developing preventive and therapeutic human vaccines and immunotherapies against infectious diseases and cancer. The Company's proprietary GV-MVA-VLP™ vector vaccine technology utilizes a Modified Vaccinia Ankara (MVA) vector, a large virus capable of carrying several vaccine antigens, that are expressed as non-infectious virus-like particles (VLPs) in the individual receiving the vaccine (in vivo). VLPs mimic a natural infection, stimulating both the humoral and cellular arms of the immune system to recognize, prevent, and control the target infection through durable immune responses. GeoVax is capitalizing on the safety and efficacy of its technology platform to address the need for a broadly-effective COVID-19 vaccine and is also developing vaccines against human immunodeficiency virus (HIV), Zika virus (ZIKV), hemorrhagic fever (HF) viruses (Ebola, Sudan, Marburg, and Lassa Fever), and malaria. Furthermore, the Company is applying its MVA-VLP technology to cancer immunotherapy (immuno-oncology).

Key Points of GeoVax's Business
On March 23, 2021, GeoVax reported year-end financial results and provided a Company update. For the year, ended December 31, 2020, GeoVax reported a net loss of $3.0 million versus $2.4 million for the year ended December 31, 2019.


GeoVax completed a public offering of its common stock (GOVX) and publicly traded warrants (GOVXW) in September 2020, with net proceeds of $11.2 million. As of December 31, 2020, the Company's cash balance was $9.9 million versus $283,341 at the end of 2019. During the first quarter of 2021, GeoVax further supplemented its cash resources with net proceeds of $9.4 million from a follow-on offering of its common stock, and $3.2 million from the exercise of outstanding warrants. The Company expects to report total cash balances in excess of $20 million at the end of the first quarter of 2021.


With the recent funding, GeoVax is well-positioned to advance several of its development efforts, focused on its COVID-19 vaccine and cancer immunotherapy programs, and expects several data announcements during the first half of this year.


The Company is developing a SARS-CoV-2 (COVID-19) vaccine that is based on its GV-MVA-VLP™ technology, which enables the insertion of multiple antigen fragments, potentially allowing for broad-spectrum virus prevention. In contrast to certain competitor vaccines that only target the COVID-19 spike protein, GeoVax's vaccines are designed to provoke a response to multiple COVID-19 antigens—potentially translating into these vaccines being less susceptible to viral mutations. The Company's vaccines are intended to be used as either a primary vaccine or to boost other COVID-19 vaccines as part of vaccination strategies to provide immunity to a range of SARS-CoV-2 variants.


GeoVax's cancer immunotherapy program, which is built on the idea of combining a tumor-associated antigen vaccine with a potent anti-tumor agent, such as an Immune Checkpoint Inhibitor (ICI), seeks to achieve regression of tumor growth and development. Initial animal studies, based upon the Company's MUC1 vaccine/ICI combination, have been encouraging.
The Company maintains a solid patent position, with over 70 granted or pending patent applications spread over 20 patent families that are either wholly owned, co-owned, and in-licensed.
*******************************************
Visit our Corporate Profile and Key Points pages
for the latest research on GeoVax Labs, Inc.
*******************************************