Crystal Research Associates has issued an 16-page Quarterly Update on clinical-stage biotechnology company, GeoVax Labs, Inc. (GOVX-NASDAQ).
Snapshot of GeoVax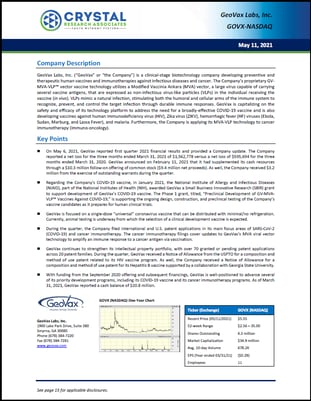 GeoVax Labs, Inc. ("GeoVax" or "the Company") is a clinical-stage biotechnology company developing preventive and therapeutic human vaccines and immunotherapies against infectious diseases and cancer. The Company's proprietary GV-MVA-VLP™ vector vaccine technology utilizes a Modified Vaccinia Ankara (MVA) vector, a large virus capable of carrying several vaccine antigens, that are expressed as non-infectious virus-like particles (VLPs) in the individual receiving the vaccine (in vivo). VLPs mimic a natural infection, stimulating both the humoral and cellular arms of the immune system to recognize, prevent, and control the target infection through durable immune responses. GeoVax is capitalizing on the safety and efficacy of its technology platform to address the need for a broadly-effective COVID-19 vaccine and is also developing vaccines against human immunodeficiency virus (HIV), Zika virus (ZIKV), hemorrhagic fever (HF) viruses (Ebola, Sudan, Marburg, and Lassa Fever), and malaria. Furthermore, the Company is applying its MVA-VLP technology to cancer immunotherapy (immuno-oncology).

Key Points of GeoVax's Business
On May 6, 2021, GeoVax reported first quarter 2021 financial results and provided a Company update. The Company reported a net loss for the three months ended March 31, 2021 of $1,562,778 versus a net loss of $595,694 for the three months ended March 31, 2020. GeoVax announced on February 11, 2021 that it had supplemented its cash resources through a $10.3 million follow-on offering of common stock ($9.4 million net proceeds). As well, the Company received $3.2 million from the exercise of outstanding warrants during the quarter.


Regarding the Company's COVID-19 vaccine, in January 2021, the National Institute of Allergy and Infectious Diseases (NIAID), part of the National Institutes of Health (NIH), awarded GeoVax a Small Business Innovative Research (SBIR) grant to support development of GeoVax's COVID-19 vaccine. The Phase 1 grant, titled, "Preclinical Development of GV-MVA-VLP™ Vaccines Against COVID-19," is supporting the ongoing design, construction, and preclinical testing of the Company's vaccine candidates as it prepares for human clinical trials.


GeoVax is focused on a single-dose "universal" coronavirus vaccine that can be distributed with minimal/no refrigeration. Currently, animal testing is underway from which the selection of a clinical development vaccine is expected.


During the quarter, the Company filed international and U.S. patent applications in its main focus areas of SARS-CoV-2 (COVID-19) and cancer immunotherapy. The cancer immunotherapy filings cover updates to GeoVax's MVA viral vector technology to amplify an immune response to a cancer antigen via vaccination.


GeoVax continues to strengthen its intellectual property portfolio, with over 70 granted or pending patent applications across 20 patent families. During the quarter, GeoVax received a Notice of Allowance from the USPTO for a composition and method of use patent related to its HIV vaccine program. As well, the Company received a Notice of Allowance for a composition and method of use patent for its Hepatitis B vaccine supported by a collaboration with Georgia State University.


With funding from the September 2020 offering and subsequent financings, GeoVax is well-positioned to advance several of its priority development programs, including its COVID-19 vaccine and its cancer immunotherapy programs. As of March 31, 2021, GeoVax reported a cash balance of $20.8 million.
*******************************************
Visit our Corporate Profile and Key Points pages
for the latest research on GeoVax Labs, Inc.
*******************************************