Crystal Research Associates has issued a 6-page update on clinical-stage biotechnology company, GeoVax Labs, Inc. (GOVX-NASDAQ) following its announcement of an Assignment and License Agreement with PNP Therapeutics, Inc. ("PNP"), granting GeoVax exclusive rights to develop and commercialize Gedeptin®, a novel patented product to treat solid tumors.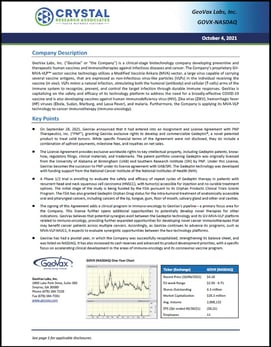 Key Points
On September 28, 2021, GeoVax announced that it had entered into an Assignment and License Agreement with PNP Therapeutics, Inc. ("PNP"), granting GeoVax exclusive rights to develop and commercialize Gedeptin®, a novel patented product to treat solid tumors. While specific financial terms of the Agreement were not disclosed, they do include a combination of upfront payments, milestone fees, and royalties on net sales.


The License Agreement provides exclusive worldwide rights to key intellectual property, including Gedeptin patents, know-how, regulatory filings, clinical materials, and trademarks. The patent portfolio covering Gedeptin was originally licensed from the University of Alabama at Birmingham (UAB) and Southern Research Institute (SRI) by PNP. Under this License, GeoVax becomes the successor to PNP under its license agreement with UAB/SRI. The Gedeptin technology was developed with funding support from the National Cancer Institute of the National Institutes of Health (NIH).


A Phase 1/2 trial is enrolling to evaluate the safety and efficacy of repeat cycles of Gedeptin therapy in patients with recurrent head and neck squamous cell carcinoma (HNSCC), with tumor(s) accessible for injection and no curable treatment options. The initial stage of the study is being funded by the FDA pursuant to its Orphan Products Clinical Trials Grants Program. The FDA has also granted Gedeptin Orphan Drug status for the intra-tumoral treatment of anatomically accessible oral and pharyngeal cancers, including cancers of the lip, tongue, gum, floor of mouth, salivary gland and other oral cavities.


The signing of this Agreement adds a clinical program in immuno-oncology to GeoVax's pipeline—a primary focus area for the Company. This license further opens additional opportunities to potentially develop novel therapies for other indications. GeoVax believes that potential synergies exist between the Gedeptin technology and its GV-MVA-VLP platform related to immuno-oncology, providing further expanded opportunities for developing novel cancer immunotherapies that may benefit cancer patients across multiple cancers. Accordingly, as GeoVax continues to advance its programs, such as MVA-VLP-MUC1, it expects to evaluate synergistic opportunities between the two technology platforms.


GeoVax has had a pivotal year, in which the Company was successfully recapitalized, strengthening its balance sheet, and was listed on NASDAQ. It has also increased its cash reserves and advanced its product development priorities, with a specific focus on accelerating clinical development in the areas of immuno-oncology and its coronavirus vaccine program.


Snapshot of GeoVax
GeoVax Labs, Inc. ("GeoVax" or "the Company") is a clinical-stage biotechnology company developing preventive and therapeutic human vaccines and immunotherapies against infectious diseases and cancer. The Company's proprietary GV-MVA-VLP™ vector vaccine technology utilizes a Modified Vaccinia Ankara (MVA) vector, a large virus capable of carrying several vaccine antigens, that are expressed as non-infectious virus-like particles (VLPs) in the individual receiving the vaccine (in vivo). VLPs mimic a natural infection, stimulating both the humoral (antibody) and cellular (T-cells) arms of the immune system to recognize, prevent, and control the target infection through durable immune responses.
GeoVax is capitalizing on the safety and efficacy of its technology platform to address the need for a broadly-effective COVID-19 vaccine and is also developing vaccines against human immunodeficiency virus (HIV), Zika virus (ZIKV), hemorrhagic fever (HF) viruses (Ebola, Sudan, Marburg, and Lassa Fever), and malaria. Furthermore, the Company is applying its MVA-VLP technology to cancer immunotherapy (immuno-oncology).
*******************************************
Visit our Corporate Profile and Key Points pages
for the latest research on GeoVax Labs, Inc.
*******************************************