Crystal Research Associates has issued a 17-page Quarterly Update on clinical-stage biotechnology company, GeoVax Labs, Inc. (GOVX-NASDAQ).
Snapshot of GeoVax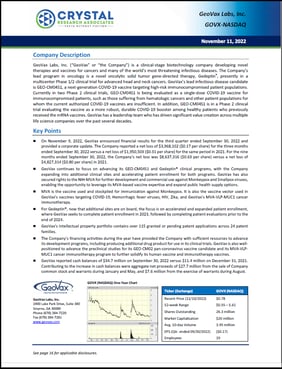 GeoVax Labs, Inc. ("GeoVax" or "the Company") is a clinical-stage biotechnology company developing novel therapies and vaccines for cancers and many of the world's most threatening infectious diseases. The Company's lead program in oncology is a novel oncolytic solid tumor gene-directed therapy, Gedeptin®, presently in a multicenter Phase 1/2 clinical trial for advanced head and neck cancers. GeoVax's lead infectious disease candidate is GEO-CM04S1, a next-generation COVID-19 vaccine targeting high-risk immunocompromised patient populations. Currently in two Phase 2 clinical trials, GEO-CM04S1 is being evaluated as a single-dose COVID-19 vaccine for immunocompromised patients, such as those suffering from hematologic cancers and other patient populations for whom the current authorized COVID-19 vaccines are insufficient. In addition, GEO-CM04S1 is in a Phase 2 clinical trial evaluating the vaccine as a more robust, durable COVID-19 booster among healthy patients who previously received the mRNA vaccines. GeoVax has a leadership team who has driven significant value creation across multiple life science companies over the past several decades.
Key Points
On November 9, 2022, GeoVax announced financial results for the third quarter ended September 30, 2022 and provided a corporate update. The Company reported a net loss of $3,968,102 ($0.17 per share) for the three months ended September 30, 2022 versus a net loss of $1,950,503 ($0.31 per share) for the same period in 2021. For the nine months ended September 30, 2022, the Company's net loss was $8,637,316 ($0.63 per share) versus a net loss of $4,827,314 ($0.80 per share) in 2021.



GeoVax continues to focus on advancing its GEO-CM04S1 and Gedeptin® clinical programs, with the Company expanding into additional clinical sites and accelerating patient enrollment for both programs. GeoVax has also secured rights to the NIH-MVA for further development and commercial use against Monkeypox and Smallpox viruses, enabling the opportunity to leverage its MVA-based vaccine expertise and expand public health supply options.



MVA is the vaccine used and stockpiled for immunization against Monkeypox. It is also the vaccine vector used in GeoVax's vaccines targeting COVID-19, Hemorrhagic fever viruses, HIV, Zika, and GeoVax's MVA-VLP-MUC1 cancer immunotherapy.



For Gedeptin®, now that additional sites are on board, the focus is on accelerated and expanded patient enrollment, where GeoVax seeks to complete patient enrollment in 2023, followed by completing patient evaluations prior to the end of 2024.



GeoVax's intellectual property portfolio contains over 115 granted or pending patent applications across 24 patent families.



The Company's financing activities during the year have provided the Company with sufficient resources to advance its development programs, including producing additional drug product for use in its clinical trials. GeoVax is also well-positioned to advance the preclinical studies for its GEO-CM02 pan-coronavirus vaccine candidate and its MVA-VLP-MUC1 cancer immunotherapy program to further solidify its human vaccine and immunotherapy vaccines.



GeoVax reported cash balances of $34.7 million on September 30, 2022 versus $11.4 million on December 31, 2021. Contributing to the increase in cash balances were aggregate net proceeds of $27.7 million from the sale of Company common stock and warrants during January and May, and $7.6 million from the exercise of warrants during August.



*******************************************
Visit our Corporate Profile and Key Points pages
for the latest research on GeoVax Labs, Inc.
*******************************************