Crystal Research Associates has issued a 20-page Quarterly Update on clinical-stage biotechnology company, GeoVax Labs, Inc. (GOVX-NASDAQ).
Snapshot of GeoVax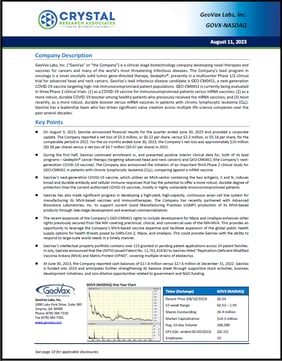 GeoVax Labs, Inc. ("GeoVax" or "the Company") is a clinical-stage biotechnology company developing novel therapies and vaccines for cancers and many of the world's most threatening infectious diseases. The Company's lead program in oncology is a novel oncolytic solid tumor gene-directed therapy, Gedeptin®, presently in a multicenter Phase 1/2 clinical trial for advanced head and neck cancers. GeoVax's lead infectious disease candidate is GEO-CM04S1, a next-generation COVID-19 vaccine targeting high-risk immunocompromised patient populations. GEO-CM04S1 is currently being evaluated in three Phase 2 clinical trials: (1) as a COVID-19 vaccine for immunocompromised patients versus mRNA vaccines; (2) as a more robust, durable COVID-19 booster among healthy patients who previously received the mRNA vaccines; and (3) most recently, as a more robust, durable booster versus mRNA vaccines in patients with chronic lymphocytic leukemia (CLL). GeoVax has a leadership team who has driven significant value creation across multiple life science companies over the past several decades.
Key Points
On August 9, 2023, GeoVax announced financial results for the quarter ended June 30, 2023 and provided a corporate update. The Company reported a net loss of $5.9 million, or $0.22 per share, versus $2.2 million, or $0.18 per share, for the comparable period in 2022. For the six months ended June 30, 2023, the Company's net loss was approximately $10 million ($0.38 per share) versus a net loss of $4.7 million ($0.47 per share) in 2022.



During the first half, GeoVax continued enrollment in, and presented positive interim clinical data for, both of its lead programs—Gedeptin® cancer therapy (targeting advanced head and neck cancers) and GEO-CM04S1 (the Company's next-generation COVID-19 vaccine). The Company also announced the initiation of an important third Phase 2 clinical study for GEO-CM04S1 in patients with chronic lymphocytic leukemia (CLL), comparing against a mRNA vaccine.



GeoVax's next-generation COVID-19 vaccine, which utilizes an MVA-vector containing the two antigens, S and N, induces broad and durable antibody and cellular immune responses that has the potential to offer a more robust, durable degree of protection than the current authorized COVID-19 vaccines, mostly in highly vulnerable immunocompromised patients.



GeoVax has also made significant progress in developing a high-yield, high-capacity, continuous avian cell line system for manufacturing its MVA-based vaccines and immunotherapies. The Company has recently partnered with Advanced Bioscience Laboratories, Inc. to support current Good Manufacturing Practices (cGMP) production of its MVA-based products through late-stage development and eventual commercialization.



The recent expansion of the Company's GEO-CM04S1 rights to include development for Mpox and smallpox enhances other rights previously secured from the NIH covering preclinical, clinical, and commercial uses of the NIH-MVA. This provides an opportunity to leverage the Company's MVA-based vaccine expertise and facilitate expansion of the global public health supply options for health threats posed by SARS-CoV-2, Mpox, and smallpox. This could provide GeoVax with the ability to respond to large-scale world needs in a timely manner.



GeoVax's intellectual property portfolio contains over 115 granted or pending patent applications across 24 patent families. In July, GeoVax announced that the USPTO issued Patent No. 11,701,418 B2 to GeoVax titled "Replication-Deficient Modified Vaccinia Ankara (MVA) and Matrix Protein (VP40)", covering multiple strains of ebolavirus.



At June 30, 2023, the Company reported cash balances of $17.8 million versus $27.6 million at December 31, 2022. GeoVax is funded into 2024 and anticipates further strengthening its balance sheet through supportive stock activities, business development initiatives, and non-dilutive opportunities related to government and NGO funding.


*******************************************
Visit our Corporate Profile and Key Points pages
for the latest research on GeoVax Labs, Inc.
*******************************************